22 april, 2009
Lyin' Bitch and The Restraining Orders - Can't Cum Within A Hundred Feet of Your Love
View Lyin Bitch & The Restraining Orders
at Punx Dot Com
INFO TAKEN FROM PUNX.COM
Location: AMERICA NORTH: USA: Colorado (CO)
Signed up: 06 Apr 2008 05:41 PM
Members: 6 Guys
Genre: Punk
Influences: Antiseen, Rose Tattoo, Curtis Mayfield
Website: http://www.myspace.com/lyinbitchtherestrainingorders
Biography
History of LBRO:
Lyin' Bitch & the Restraining Orders were conceived out of an unholy marriage of skatin', drinkin' and love of punk music. Being fueled creatively for our contempt and down right hatred for all the music that most Denver punk bands had put out in the past and present. As a result, a new & inovative punk band was birthed into the scene. 1/2 of the band name (Restraining Orders) came to us after an all night drinking binge at a Halloween party. And the Lyin' Bitch part of the name, well, that was givin' to us by a girlfriend of mine at the time. We now had a name, the 4 members and a practice space at local spot for shows and skating known as the Fallen Skate Warehouse (r.i.p). 5 Months later we had our first gig with Hobnail Stompers (r.i.p.) at the Lion's Lair here in Denver. Later down the line the 4 of us took on two hired guns that would melt into the Lyin' Bitch fabric and we would become 6 members. A few of those members have been weeded out since. The fat has been cut out and we're pressing on for bigger and better opportunities.
LBRO Resume:
Established as a band in June 2003. We were ready to nake killer punk songs and hit the trail. But just like most bands the road has been a rough one and has strengthened us as a band. The band have been on two 10 day tours in which we played in Idaho, Washington, Oregon, California, Nevada, Arizona, New Mexico. We have also taken 3 weekend long tours and have gone to Minneapolis, Des Moines, Las Vegas (2 times), Albuquerque. In that time we have put a 15 song CD entitled "Bestiality Prevents Teen Pregnancy" which is distroed through Interpunk & Midhaven Records. The CD is also carried at local record stores here in Denver such as Wax Trax, Independent and Twist & Shout. As well as, have song in the Skate Colorado video and have a song an a tribute to GG Allin CD on Husk records. We have many many shows here in Denver from small dive bar & warehouses to venues that hold 800 people. Opening for national/international acts such as:
Duane Peter's Gunfight, The Adicts, Vibrators, Dr. Know, Conflict, UK. Subs, The Spits, Muddy River Nightmare Band, Exploding Fuck Dolls, Amina Mundi, Retching Red, Shock Nagasaki, Verbal Abuse, Fang, Total Chaos, Murphy's Law, Straightjacket, The Bodies, Motorama (from Canada), Sleezus Fist & the Latter Day Taints, Rigor Mortis, Hell Bats (from France), Agent Orange, Shat, the Midnight Creeps, Highway Murderers, Stool Sample, BB Slags, The Sleezies, Frankies Broken Toys, Suplecs, Chix Pack, Weedeater, The Murder Junkies, Monster Squad, SS Kaliert (from Germany) Adolescents, Dwarves, M.D.C., Hammerlock
You Tube hosts 6 of our videos and has banned 1 of 'em that you can chek out here on myspace.
Our Disclaimer:
We as a band are trying not to get pigeonholed as"this kinda band" or "that kinda band" but people do see what they want. Which is why we strive to be more innovative in our music & stage shows. We just try to play good old style punk music with a gnarly hard edge while raping peoples sense of humor. So with that in mind, we will never play politically correct, tree hugging, emo, square, jive punk music. Nah, go on & take all that type of hackneyed music and spackle my dick with the A.I.D.S virus, gouge out your eyes and have sex with it before we play well-worn & unoriginal music ! We like to be either hated or loved, no middle of the road garbage here.
Our Influences:
Old punk rock, skating, drinking, heel wrestlers and heel managers, horror movies, life experiences, death, love, hate, our friends past and present.
Band Members are as follows:
Singer- Jim aka Shank Whitey aka Bulldyke The
Magnificent aka Capt. Dungheap
Bass- Wenzel aka Weezus H. Christ
Lead Guitar- Mike aka Ivan Wankenov aka The Mad Russian
Rhythm Guitar- Dave aka Greg Loosanus aka John Smacken Ho
Harmonica- Tony aka Tonads aka Rocko Roll Express
Drums- Mark aka Chief Rugburn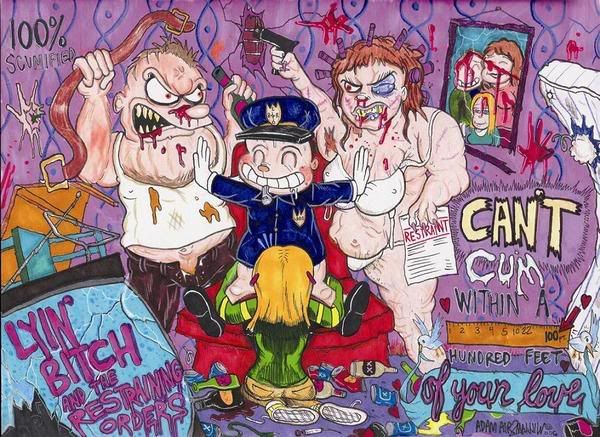 1. Intro To The Lbro World Order
2. Hello Bitches
3. Ugly
4. Itch, Scratch and Sniff
5. Secret Sessions
6. Ice Cold Beer
7. W.W.G.G.A.D?
8. Fuck Myself
9. The Devil's Work
10. Step Into My Back Hand
11. Shot of Whiskey
12. Got A Shot
13. No Rules
14. Brain, Mouth and Class
15. Best Selling Liars
16. Can't Take It To The Grave
17. Bless This House
18. Goat On A Boat
DOWNLOAD